Frame Wright owner Rich Gloor opened his shop in August 2001, making into reality his desire to give your valuable art pieces their most flattering visual appearance. His goal is to complement the beauty of your objects.
Rich earned a degree in Graphic Arts and Advertising and worked for more than 25 years in printing and graphic design. When he left the business, he was managing the graphics department at a major flexo-printing company in Rochester NY.
But a career in woodworking -- especially framing -- had been on his mind. So he went in a new direction.Rich already was an experienced woodworker and ceramics craftsman. And working side jobs and on his own projects, he had become an accomplished custom framer. He solidified this knowledge with additional formal training in all areas of custom framing.
Now as the Frame Wright, Rich strives to offer the highest quality custom work at reasonable prices, as only a small shop can do.
Many people needing a frame for their art simply go the nearest "big box" discount store and get one off the rack. But they don't realize that small shops like ours can offer unique and refreshing ideas for displaying art, photos, collectibles and sports memorabilia.
What's more, we have the expert solutions to preserve and protect your valuables from the damaging effects of light, humidity and time.
At Frame Wright, we can do it all.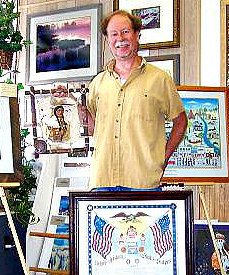 Hours
Monday 10 am - 4 pm | Tuesday to Friday 10 am - 6 pm | Saturday 10 am - 2 pm | Sunday closed